Austintown Chiropractor | Dr. Michael Weaver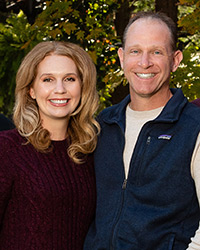 I was a sophomore in college and was involved in a series of auto accidents, leaving me with excruciating neck pain and loss of function in my right arm.  After several attempts by the traditional medical field failed, I found myself in the hands of a chiropractor.  From the first adjustment I received, I knew that God had placed me on my life's journey, and I have never looked back.
A Chiropractic Education
From that point on, I completed my Bachelor of Science degree from Youngstown State University and enrolled in Palmer College of Chiropractic in Davenport, Iowa.  It was by far the hardest and most rewarding challenge to date.  While there, I became actively involved in one specific technique of spinal adjusting based on the work of Dr. Clarence Gonstead.  I worked day and night to master the Gonstead technique and later assisted in teaching it.  I graduated Summa Cum Laude in 1996 with honors and made the President's List.  I also became a member of the International Chiropractors Association, American Chiropractic Association, International Chiropractic Pediatric Association, Ohio State Chiropractic Association, and Christian Chiropractors Association, as well as serving as the Past President of Ohio's Palmer College Alumni Association.
God continues to work in our lives and each day we strive to bring hope to those suffering and health to those trying to achieve it.
On a Personal Note…
I married my incredible wife, Andrea, in 2002 and a few years later came our three blessings, Michael, Benjamin, and Lily.  All three of our children were adjusted immediately after birth and have led healthy active lives, and chiropractic continues to be essential to their health and well being.  We receive regular chiropractic adjustments and live a chiropractic lifestyle, eating mostly organic foods, staying active, and taking vitamins and supplements.  We stay active in our church and are always thankful for the many blessings in our lives.  Our family loves the beach, the sun, and the water, and we go as often as we can.  My family will always be my most important priority, as I receive the greatest joy from my wife and kids.
My office always has time to listen and would love to be on your team as you either begin or continue your health journey.  We would love to meet you in person and discuss your health challenges, and help you heal, grow, and thrive!
Thank you for visiting our site. I look forward to meeting you in person and hope to help you become an even better you! Call our Austintown office and schedule an appointment today!
---
Weaver Family Chiropractic and Wellness Center
(330) 799-1110
Serving Boardman, Canfield and surrounding communities of Northeastern Ohio